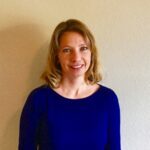 In 1999, Shelley Swircek was awarded the City of San Jose Future Teacher Scholarship
from the office of the mayor and pursued her dream in teaching. She earned her teaching credential from San Jose State University and has been deemed highly qualified according to national guidelines. In 2000, she was hired at Tom Matsumoto Elementary School in the Evergreen School District. Shelley taught at Tom Matsumoto Elementary School for many years at various grade levels. In addition to her work in the classroom, she has been a Support Provider for new teachers through both the Evergreen School District and San Jose State University.
In 2007, Shelley left the Evergreen School District and started Silver Creek Academy. Her philosophies and style as a teacher derive directly from the experiences and lessons that she learned in her past as an elite athlete. She grew up in Southern California and at a young age fell in love with the sport of gymnastics. In 1991, she earned a spot on the USA National Team and was ranked third in the nation. Shelley was fortunate to win the 1991 U.S. Olympic Festival Competition and shortly after was named California's Youth Athlete of the Year over athletes such as up-and-coming golfer Tiger Woods. In 2001, USA Gymnastics' governing body asked her to mentor a promising young gymnast, who later went on to make two Olympic teams. Shelley brings to the classroom a wealth of experiences and expert knowledge that she passionately shares with her students.