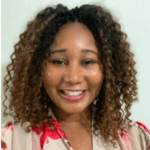 Jasmine Houston graduated Summa Cum Laude from the University of Memphis in Tennessee with
a Bachelor's degree in Elementary Education.
She obtained dual licensure in Elementary Education and Special Education Interventionist. Jasmine Houston is credentialed in three states- Tennessee, New Jersey, and California. She has over eight years of experience in the classroom and has worked with various age groups and grade levels. Currently, Jasmine teaches kindergarten in Redwood City. She is passionate about fostering a love for learning and helping students reach their academic goals. She is excited to be part of the SCA team.