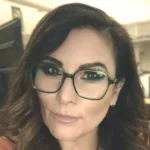 Ms. Liza Cardenas was born and raised in San Jose. She has been a teacher in the Evergreen School
District for 16 years.
She has taught fourth grade to sixth grade in the evergreen community. She has earned her bachelor's degree in Business Administration and a master's degree in Education with an emphasis on Cross-Cultural Teaching. Ms. Liza's passion for teaching is a welcomed addition to Silver Creek Academy.

Ms. Liza enjoys walking, reading, and spending time with family and friends in her spare time. She looks
forward to bringing her expertise in her years of education to the students of Silver Creek Academy.