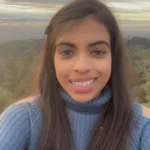 Sakshi Thinda was born and raised in San Jose and graduated with high honors from Golden Gate University (GGU) with a Master's in Business Administration (MBA).
Before that, she attended San Jose State University (SJSU), earning a Bachelor of Science degree in Journalism and Mass Communication and a minor in Psychology. She graduated from SJSU with a Summa Cum Laude.
During her undergrad years, Ms. Sakshi worked in the educational field as an after-school coordinator by tutoring students in various subjects and offering college preparedness programs. Additional responsibilities included evaluating and communicating student progress, teaching, and creating a positive learning experience. Ms. Sakshi is highly passionate about education, inspiring, and motivating
students while being a part of the Silver Creek Academy team!