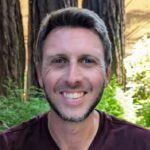 Mr. Brad Rodrigues is a Rhode Island native who has taught Social Studies for eight years in Bristol Warren Regional School District grades 6-12 and has taught for the past seven years in Alum Rock
School District in San Jose.
He majored in Social Studies/Secondary Ed and minored in Native American history at Keene State
College in New Hampshire. In his free time, he enjoys playing and coaching football, reading a good history book at the beach with his wife, and taking other people's dogs on walks. Mr. Brad is
excited to be a part of the team!